CLASSIC 80M TRANSMITTER FOR RADIO ORIENTEERING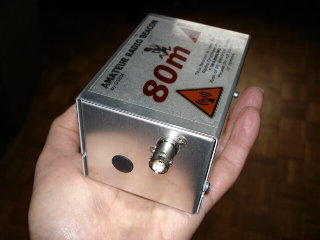 The 80m TX described here is the well known ON7YD ATX-80 and timer, combined in a standard aluminium enclosure.
For a full description of this excellent design visit the ON7YD web site
The PIC timer and RF circuits have been combined and a PCB designed to fit a standard AB28 folder aluminium box.
The AB28 box is ideal because it neatly accommodates a 10xAA battery pack with the main PCB above. In operation, the unit is placed in a plastic bag and hidden under leave mould. A plastic storage box, or plastic pipe might be other weather proofing alternatives.
Using a slightly wider aluminium box Type AB23 This allows the inclusion of a simple toroid matching device, in the enclosure.
PIC SOFTWARE
You can use the original software by ON7YD or alternatively the G3ZOI software, which has been enhanced to allow an end-of-transmission callsign to be programmed into eprom.
MATCHING ANTENNA
For details of a suitable 80m ARDF Antenna click here

VERSION-3 PCB dated 12:09
Enclosure Details (not available)
OLDER VERSIONS
PREPARING THE BOX
One side of the bottom flange needs to be modified to allow you to removal of the battery pack.
UPDATE ! No need to cut it as shown, just fold flat to the box bottom.
Drill and countersink the fixing holes for the PCB spacers. The spacers hang from the top flange. 


Enlarge the existing fixing holes in the box-top to allow it to hinge.